Top posting users this month
Who is online?
In total there is
1
user online :: 0 Registered, 0 Hidden and 1 Guest
None
Most users ever online was
63
on Wed Jul 03, 2019 11:04 am
Visitor Counter
Web Counter

WolfQuest User:
WhisperToTheWind
Wolf Name:
Kristin
Gender:
Female
Age:
Teenager/Young adult (Sooo, 1 1/2 years I guess?)
Fur color:
Light Grey
Eye Color:
Amber/Yellow
Scars/Marks:
3 scars, look at reference. She has odd stitchings on one of them.
Accessories:
A lot of random piercings in her ears. She also has a piercing on her nose, lip, and tongue.
Pack:
None; She's a loner
Friend, ally, rival, relative:
Not sure
Wolf Breed:
Grey Wolf
Mate:
Ha!
Crush:
Psh, yeah right.
Anything Else:
She doesn't talk much at all. She mainly keeps to herself and likes to be alone. Kristin seems to have a hard time trusting others. She tends to get very lonely and often talks to herself. Kristin has no sense of smell, but extremely acute eyesight and hearing.
(It is almost impossible to sneak up on her, just to let you know xD)
Reference: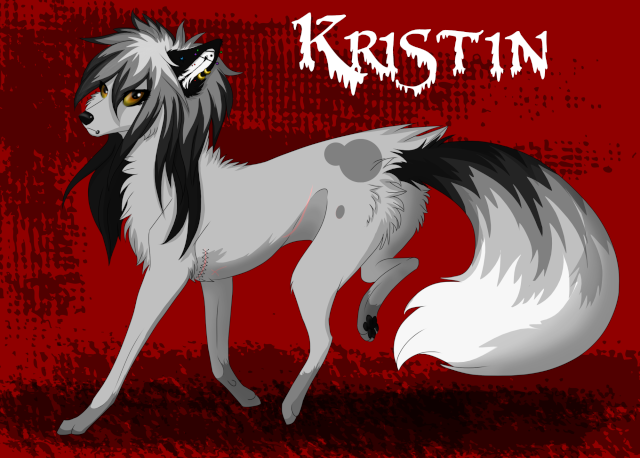 I might use her. Not so sure about it though.



Posts

: 231


Join date

: 2011-08-20


Age

: 20


Location

: Arizona =D



_________________
"I can't dance, I'm high." ~ Ian Hecox
Moderator





Posts

: 3725


Join date

: 2011-07-17


Location

: Arizona, USA






Posts

: 5532


Join date

: 2011-07-18


Age

: 19


Location

: Blehland



Holy shiz nuggets!!! She has a lot of frikkin peircings!!!!! Awesome. xD



Posts

: 1283


Join date

: 2012-10-09


Age

: 22


Location

: Texas



Two industrials
two-four cartilage
a nose
tongue
and a lip ring



Posts

: 3259


Join date

: 2011-07-19


Age

: 21


Location

: Wyoming, USA






Posts

: 231


Join date

: 2011-08-20


Age

: 20


Location

: Arizona =D




---
Permissions in this forum:
You
cannot
reply to topics in this forum