Top posting users this month
Who is online?
In total there are
3
users online :: 0 Registered, 0 Hidden and 3 Guests
None
Most users ever online was
63
on Wed Jul 03, 2019 11:04 am
Visitor Counter
Web Counter

So I made a map... It's kind of crap... And now I must resist the urge to rap about my map.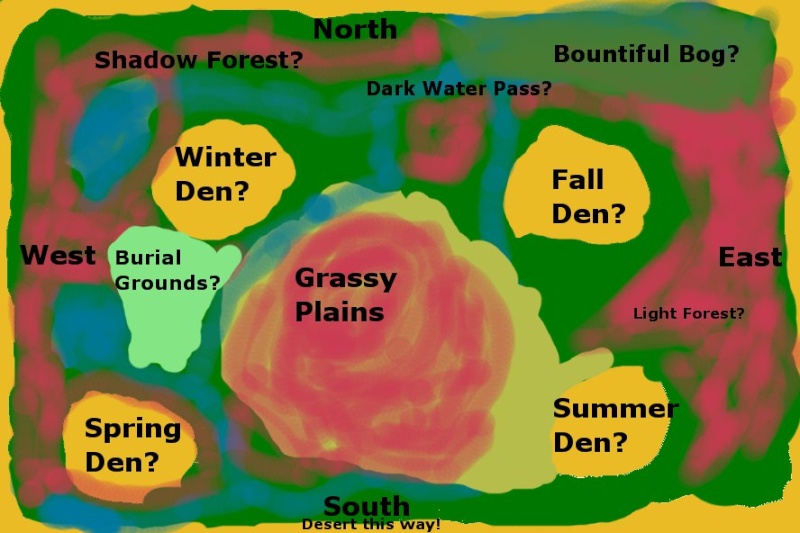 So, the gold was supposed to be the territory borders but then some of the stuff I showed inside of the borders even though it's supposed to be outside of the borders and I'm sorry that my map is a crap map. I tried to place them where I thought they'd go best based on descriptions. Red stands for popular hunting zones. Even though the water (blue, duh) isn't labeled most of that is the Misty Stream which I think starts up from the Bountiful Bog and ends in the Large Lakes and some other smaller ponds? I tried to label everything, but it was getting crowded. I hope I got everything! Sorry if I forgot... AH CRAP! I FORGOT THE RANCH, DIDN'T I!? GAH! Maybe it could be to the Southeast? Past the Light Forest? I'm sorry. Knew I forgot something. Anyway. This doesn't have to be the official map, it's just something I thought might work and might help some people figure out what could actually lead to where.



Posts

: 5532


Join date

: 2011-07-18


Age

: 19


Location

: Blehland



Heyyyyyyyyyyyy. I like the map. Gives ya a visual. =P Oh, and hi Holo!



Posts

: 1283


Join date

: 2012-10-09


Age

: 22


Location

: Texas



It's a good base for a map, but it would be a easier to have all the info there. I'll us this to kinda jump start a more official one. Thanks!

_________________
Garrus Vakarian: Tali's a welcome face around here... or, well, a welcome face behind a helmet, I guess.
Kai Leng: You're slow, Shepard!
Commander Shepard - Male: I'm only slow because I'm not running!
Urdnot Wrex: Now we can get back to doing what krogan do best: saving everyone else from giant monsters.
Garrus Vakarian: Forgive the insubordination, but this old friend has an order for you. Go out there and give them hell. You were born to do this.
Tali'Zorah vas Normandy: So you're a real living prothean?
Javik: As opposed to a fake dead one?
[silence]
Tali'Zorah vas Normandy: Uh... okay.
Admin





Posts

: 7613


Join date

: 2011-07-15


Age

: 22


Location

: My own world, only my friends may enter



Yo Echo, and thanks Khora. I'm too lazy to make detailed maps. XD



Posts

: 5532


Join date

: 2011-07-18


Age

: 19


Location

: Blehland




---
Permissions in this forum:
You
cannot
reply to topics in this forum